2018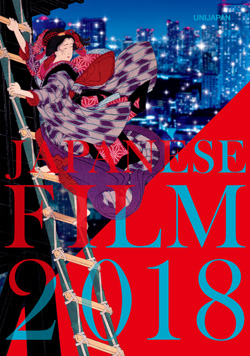 A bilingual Japanese-English yearbook of Japanese Films for the overseas
Continuously published since 1974 under the support of Japan's Ministry of Culture (Bunka-cho). It is edited, published and distributed by UNIJAPAN.
Title:

Japanese Film
Issue date:

March
Content per issue

Introduction of around 80 Japanese films selected out of those officially released in theaters within Japan during previous year. The presented films are chosen by the Selection Commitee. Also includes statistical data on Japanese film industry and contact details of Japanese film related companies and organizations. The same content is presented at JFDB (a UNIJAPAN managed Japanese film Database).
Distribution
Domestic

Ministry of Culture (Bunka-cho) and related bodies, Japan based overseas government agencies, production companies (as reference material) and film industry related organizations.

International

Overseas film festivals and film markets related professionals (Cannes, Toronto, Pusan, Tokyo, AFM (USA), Berlin) and overseas Japanese government agencies.